How to Clean Your Bathtub Using the Best Tub Scrubber ( And 5 Highly Recommended Tub Scrubbers to Try)
Updated December 12, 2020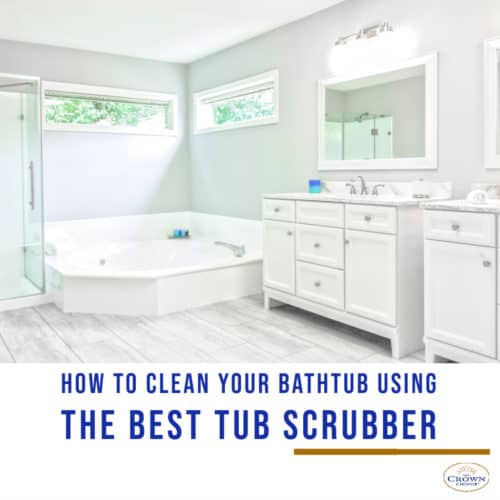 Soaking in a tub filled with warm water and scented soap is one of my favorite things to do to help me relax and unwind. I love to savor this moment because it helps ease the tension from my body. You might have been doing this yourself after a long day at work.
Well, good for you!
However, all that soap suds and scum can accumulate in and around the bathtub which can be tough to clean at times. Also, there is the danger of damaging the surface too when you scrub vigorously with the wrong cleaning tool. Don't worry, I understand your fear because it's something that has crossed my mind as well.
That said, I have figured out a way on how to clean the bathtub with a good bathtub cleaning brush. Want to know about it?
What Is the Best Brush to Clean Bathtub?
When cleaning my bathtub, I often use a sponge to scrub the scum, but I don't think it is working well. I have to admit that I was feeling frustrated every time I had to give my bathroom a good cleaning because I was never happy with the end results, but not until I came across The Crown Choice's All-Purpose Bathroom Cleaning Brush.
I consider this product as the best tub scrubber because it is quite versatile. It's not just for cleaning tubs because I have used it on glass, tiles, even the bathroom floors too. I had no problem gripping the handle even when I use it in various ways which is quite a relief! Just imagine the pain of gripping a sponge when scouring the tub vigorously.
I like the fact that it can be used for every cleaning task that I do, such as scrubbing kitchen counters, shower tiles, even the grimy flooring of my patio. No cleaning task will be tough with this brush!
What I like:
All-around cleaning brush.

It is comfortable to hold onto.

Angled bristles help clean even the toughest spaces.
What I don't like:
The handle tends to be slippery when your hands are wet.
Yes. 10% off your order for reading this article. Use code 10TCCBLOG at checkout.
Bathtub cleaning brush with replacement head - Say goodbye to dirty tubs and showers
Vanilla – 3935 Servings IN STOCK - ready to ship
View Label / Ingredients
30-Day Money Back Guarantee
Free ground shipping
Steps for Cleaning the Bathtub
Now that you know my choice for the best brush to clean bathtub, here are my suggested steps to cleaning your tub.
Step 1: Clear Your Tub
Yes, you have to clear everything in and around your bathtub because you don't want them to get a dose of your cleaning product. Don't forget to throw empty bottles and other junk then wipe down everything else that may have soap stains in them.
Step 2: Clean Walls and Tiles
If you are faced with tough buildup on the grout between tiles, you should try out my choice for power scrubber for bathroom which I have mentioned above. The all-purpose bathtub cleaning brush can easily get into those narrow spaces while its bristles will not only loosen up the buildup, but they will not damage your tiles and walls either. Use a cleaning solution to soften the stains before scrubbing thoroughly. If you are going to use any chemical-based products, I would recommend that you open your bathroom windows to help clear out the smell.
Step 3: Don't Forget the Drain
Of course, the drain in the bathtub should not be forgotten. I would recommend that you pour down at least half a cup of baking soda down your tub's drain then half a cup of distilled white vinegar. Let these two sit in the drain for a couple of minutes to soften any clog in it then pour hot water to flush everything.
Step 4: Use an All-Purpose Cleaner
For the tub, get an all-purpose cleaner that is designed to dissolve or remove tough stains. Spray or apply the solution inside the tub and wait for a few minutes before scrubbing with your all-purpose scrub brush. You will find that any grime or stains will disappear quickly. I am actually enjoying my cleaning task because of this.
Step 5: Focus on Soap Scum and Stains
An old toothbrush can be used when removing soap scum in the tub, but this will take a while before you see results. I highly recommend that you invest in the all-purpose bathtub cleaning brush from the Crown Choice because its ergonomic design helps it get to those toughest corners. Even those tough stains will not stand a chance with this product.
Step 6: Wipe down Your Tub
After all the scrubbing and cleaning, the final step is to wipe down your tub. There shouldn't be any water or soap residue. Run your fingers inside the tub to ensure that you haven't missed any spot.
The Best Tub Scrubbers to Try
Aside from the All-Purpose Bathtub Cleaning Brush I've recommended here, you can also try the following:
The tough bristles on the Amazer Scrub Brush are quite capable of handling tough stains and build up in tubs. The comfortable grip ensures that your hands don't get tired as you scrub away on your bathtub's surface. Another plus to this product is that it does have an ergonomic design that allows you to add pressure on the brush as you see fit. 
What we like: 
Ergonomic design provides a more comfortable grip on the brush. 

Bristles can do soft and hard scrubbing without deteriorating quickly. 

The scrub brush can be used on other surfaces too. 
What we don't like: 
The handle doesn't stay put which makes it difficult to use. 
OXO's all purpose scrub brush has comfort in mind with its contoured handle designed to absorb most of the pressure as you scrub stains away. The soft bristles are quite capable of handling even the toughest cleaning without falling apart. It is ideal for all cleaning jobs too from the bathroom to the kitchen, even outdoor cleaning too. 
What we like: 
Contoured handle makes it easier to wield when scrubbing. 

Soft bristles will not scratch or damage surfaces. 

It can remove even tough stains, suds, and scum. 
What we don't like: 
The bristles are way too soft to stand up to tough grime build up. 
This power scrubber's long handle makes it easier for you to clean those hard to reach corners in your tub. The spinning scrubber makes short work of removing tough build-up and stains on tubs and other surfaces. It is water-resistant too which prevents damage to the unit during cleaning. 
What we like:
It comes with an oscillating head that loosens and cleans stains quickly. 

Ergonomic grip allows better control during cleaning. 

Water-resistant.
What we don't like: 
Parts tend to be fragile which can be costly. 
This bath and tile brush features a scrub brush in its corner for full cleaning capabilities. It can easily scrub away even the toughest of stains and build up with minimal effort on your part. Based on its design, cleaning the tub from different angles will be a breeze. 
What we like: 
Unique design provides multiple cleaning positions for ease of use. 

Extra scrub brush in corners allows you to access even the toughest corners. 

Soft but durable bristles get the job done. 
What we don't like: 
The bristles tend to fall during hard scrubbing. 
This power scrubber delivers results without hurting your hands. I like the fact that is wireless so I can get to the tough areas in the tub to remove dirt and grime. It only runs on double-A batteries plus it comes with 2 scrub pads too.
What we like about it:
It is compact and fits my hand comfortably.

It is wireless.
What we don't like about it:
Yes. 10% off your order for reading this article. Use code 10TCCBLOG at checkout.
Bathtub cleaning brush with replacement head - Say goodbye to dirty tubs and showers
Vanilla – 3935 Servings IN STOCK - ready to ship
View Label / Ingredients
30-Day Money Back Guarantee
Free ground shipping
Save Time and Money by Using the Best Tub Scrubber
Now that you know my secret techniques in keeping my tub squeaky clean, I wish you the best of luck when cleaning your own bathtubs with these cleaning tools. 
Make your bathtub cleaning a breeze! Grab The Crown Choice All Purpose Bathroom Cleaner Brush right now.